Boca 45/Mohawkestra - Bear Pit
Bomb Strikes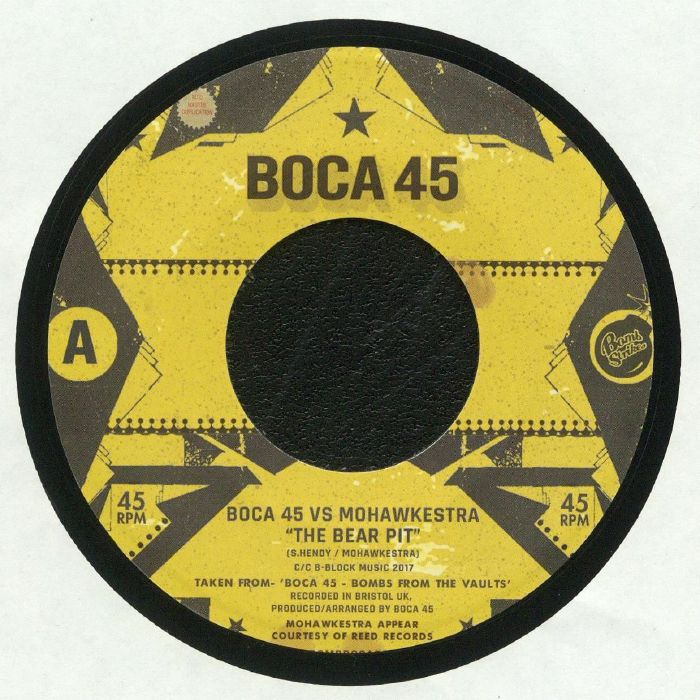 Bristolian beat King Boca 45 is a man who knows a thing or two about dusty breaks and 7" records. The 45 Live lynchpin has been integral to the recent revival of 45 culture, and here teams up with fellow Bristolians Mohawkestra to deliver another killer record. The A-Side, Bear Pit, references one of Bristol's infamous institutions, the Bear Pit - a place where artists, anarchists, tramps, pissheads, punks, crusties, rastas and drug dealers intersect with shoppers and office workers in the centre of Broadmead.
Fittingly, Bear Pit oozes punch-drunk swagger, gritty funk and psychedelic swirls. Utilising the exceptional musicianship of enormously popular local live act Mohawkestra, Bear Pit delivers on many levels.
Featuring Kelvin Swaby, B-Side Round & Round feels like a blend of The Meters, The Rolling Stones and The White Stripes. Rousing, idiosyncratic and just brilliant.
Straight in at No.1 on the Funk chart, get it below