Asbest The Moor King - Mind of a Few
Self-released
Brightonian Asbest the Moor King returns with his most accomplished record to date. It's a sample heavy, reclined and raw exposition of a much-maligned genre.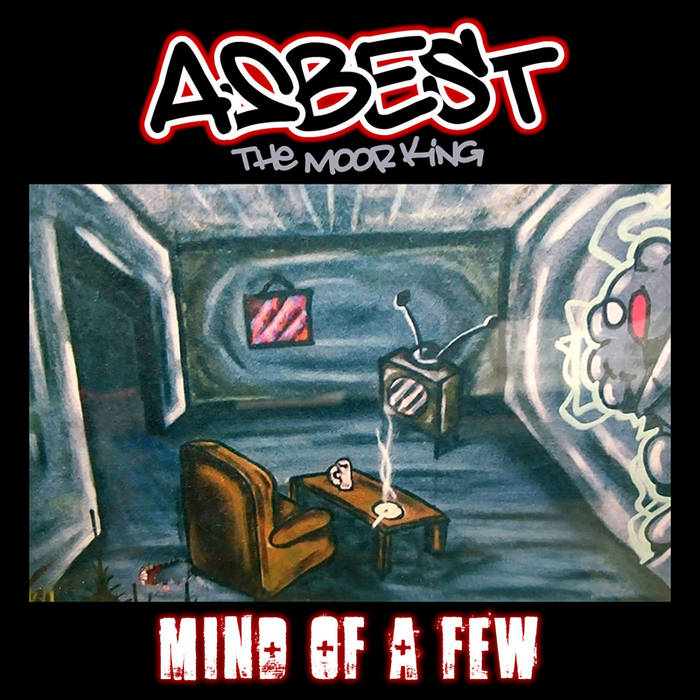 UK Hip-Hop is a peculiar entity. The yanks have a kind of natural aptitude that renders most of their efforts listenable, even when unspectacular, at least to those partial to the genre. The British are generally horrendous. The average UKHH record is almost certainly going to make you cringe more than it makes you draw gunfingers. Another song about weed: check. Another stoned monologue explaining how the system isn't very nice to poor people: check. At it's worst, and most common, it's a jaded, impotently angry and soporific style of music that has lost almost all relevancy, particularly now that Grime has injected such vitality into street music.
Despite this, it still engenders a particular satisfaction when it comes correct. When it's not trying to be something it isn't, and goes out with an uncompromising game-plan. Jehst, Braintax, Rodney P and of course Roots Manuva. Ty, Chester P, Blak Twang and Skinnyman. These guys, and many more, have served up some truly brilliant, unique and inherently British examples of the Hip-Hop genre. Of course, their output has been variously consistent, and ensuing live performances can veer from stupefyingly brilliant, to simply stupefied... but those moments of chaotic magic give any US exponents a run for their doo-rags.
UK Hip-Hop is far from dead, even set against the ultra-commercialized Pop-Hop that claims the popular affection.
There's the virulent, vital Grime, with superstars Skepta, Boy Better Know and so on. Brass-band toting Hip-Hop live acts such as the tremendous Lazy Habits, Disraeli and The Small Gods (RIP) and The Mouse Outfit, and the party-starting beats and breaks of 6Music favourites The Allergies are testament to the perennial appeal of the genre.
What we haven't seen, for a very long time, is much in the way of credible 'conscious rap'. Enter Asbest the Moor King, with new album Mind of a Few.
Despite welcome similarities to indie American legends such as Deep Puddle Dynamics, Slug and Alias, there's a proper Britishness on display here. Not so much a poverty-stricken council estate Britishness, as a weed-smoke and urban poetry one. A British dedication to an American-originated artform, really. Asbest and friends care about the Elements of Hip-Hop, as the occasional odes to Graffiti culture, Freestyling and Breaking attest. Yet more than a hackneyed fetishisation, there's something scholarly going on here. Asbest's rhymes are dense and delivered with the conviction of a man who has studied his artform in depth. The beats are crafted with skill and a sample-spotter's nous. It's not about doing something brand new; it's about attempting to perfect something established.
The result is a record that could sound cliched, and occasionally does, yet crucially is delivered with such evident commitment to the craft that we end up with something genuinely mellifluous. Harkening back to a time of relative simplicity; a time of skateboards, skinning up and sketching out, Mind of a Few is an accomplished example of a style that thrives in an outsider state. Dooz Kawa and Marcus Mandible provide some standout guest-raps alongside James Reindeer and Speech Urchin, with Asbest himself on the boards for everything else.
Fans of Anticon, Anti-Pop Consortium and Diverse will be well-served, as will anyone interested in the concept of intelligent, impassioned hip-hop that avoids patronizing its listeners with bumper sticker wisdom.